Interior Door Products
Lebo's door series are distinguished by numerous model varieties and precisely compatible surfaces. As in a box of building blocks, all products of LEBO fit and prove a harmonious whole. Innovative doors originate from the application of trendy surfaces, individual openings designed by the customer and extras like integrated, changeable and individually printed inlays. No matter whether individually, experimentally, classically, elegantly or simply, LEBO creates door trends for tomorrow and guarantees an elegant residential ambience combined with lots of joy from your doors... which will last for many years!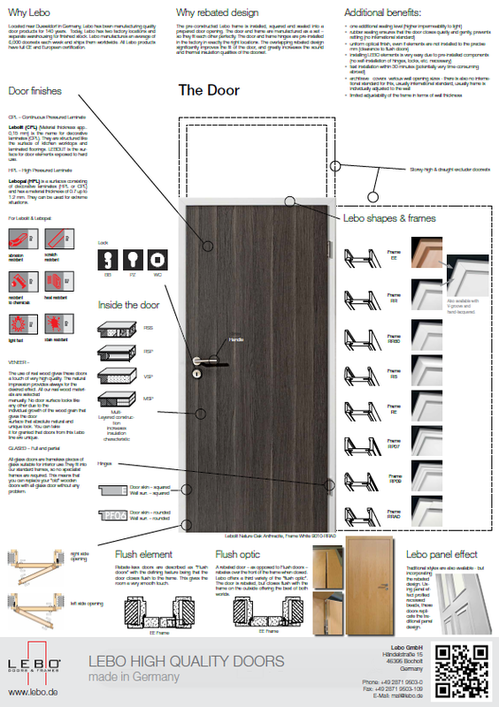 ---
Vancouver's Modern Interior Door Catalogue
All Lebo Interior Doors come fully Stained, with Frame, Trim and Hardware. No need to buy anything extra.
You can browse the Door Catalogues to find what you like.
You will find 100's of pages of doors, so please be patient while it loads.
---
Full Glass Barn Doors

Lebo offers Barn Style Siding Doors.

Shown here is a "Full Glass' Version in a milky White Obscure.
Hardware comes in Stainless Steel with matching top track and door handle.


---

Interior Transoms and Sidelights

Transoms and Sidelights as an interior option?

With Lebo doors you can add a completely different look to your interior walls to include a large door with lots of glass. Perfect to open up your home and let light come in.

---
Thermo-Door Technology

Lebo offers Thermo-Doors.

These doors offer a U-Value of 0.84 by incorporating the following 3 elements:
1) A Polyurathane filled core of the door
2) An Aluminum inlay under the veneer
3) A lowerable floor seal

An ideal solution wherever you want to keep a room at a constant temperature.

---

Hidden Hinges

Hidden Hinges to add sophistication to your home.

Using Hidden Hinges allows a door to have no visible hinges, thus adding to cleaner, design oriented look.
They also make it possible to have the door panel flush with the door frame.

---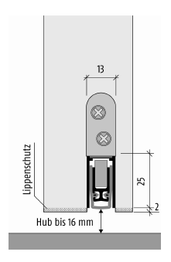 Lowerable Floor Seals are available for any Lebo Door.


BENEFITS

Lebo's lowerable floor seal and three-side-rabbetted door panel ensure odours from all sources, light and sound, do not migrate out of areas in which they are meant to be contained and into areas in which they are not welcome.

This means control of your home's environment, more comfort for its inhabitants.


---
---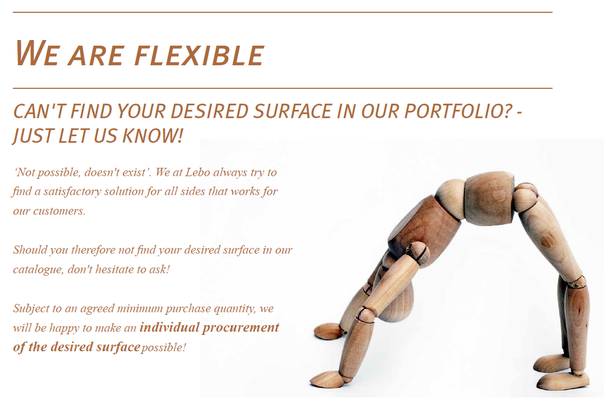 Here is a small glimpse of LEBO's design variety